I wonder when ethnic groups realized they were different, not because of their culture or practices but because of the color of their skin. When did skin color become more important than the blood that flows in our veins and when did the inner spirit that truly defines a person become second class? The emergence of the word race dates back to 17th century and is mostly used to categorize people primarily by their physical differences. I wonder who coined the word. I can imagine them sitting down in a dark room, smoking their pipes and sipping their fine scotch as they decided that the color of the skin, hair texture and facial features defined a man and his superiority. They must have had a water tight strategy because the propaganda spread like wildfire. It is no wonder the cosmetics industry has capitalized on this; there are countless lightening products in the market today and the buyers are not lacking. Think of all man has done, found cure to deadly diseases, travelled out of space, survived wars and natural disasters and yet he is unable to reconcile himself to the fact that he is one species; the human race. Not white, yellow, red, black, brown or whatever other classification you want to use. He is one species and we are all members of it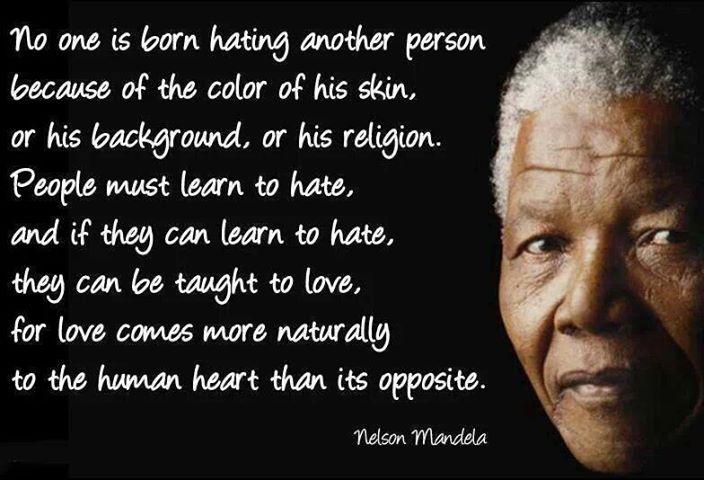 I trust we have all watched or read the news on racial hate attacks or profiling. I used to think it cannot be that bad. The victims could rise beyond the hate, develop a hard skin and move on. After all, sticks and stones can break your bones but words cannot hurt you. Oh how terribly wrong I was, because when I came to be on the receiving end of the racial slur all I wanted to do was to crawl in a hole and hide. I wondered how someone could look at me and see an inferior being, a la couleur or even worse use the N word. I dreaded going out because it felt like I was walking into a lion's den, I could feel the stares, feel them get ready to pounce as I walked on the streets and as if not ones to disappoint the shouts and crude remarks would start. I cannot tell you how many times I felt defiled or like a lesser human being.
I remember calling my best friend and bemoaning of how miserable and lonely I felt and I will never forget the words she said to me because they redefined my outlook on life here. She told me it would be a shame to live in a new country for two years and not know a soul. Hate is everywhere she argued but taking the victim role did not make me the better person. I had to reach out and open my heart to the new environment and the people. I thought she was crazy but I gave it a try and I have found acceptance for who I am and that somehow drowns the hate.
I will admit that I have gotten better at ignoring the shouts and the crude remarks. Maybe I have developed a thicker skin or I have come to the acceptance that every society has its rotten eggs. There are times I want to shout at the top of my voice or hit something or someone but that would only reinforce their belief that I am crazy plus I do not want to break my hand. So I ignore every word and go my way as if it doesn't matter. But I still have questions, what resides in a heart that spews such venom or don't they know it hurts? I am human too, I hurt and I crave for acceptance regardless of my skin color or my kinky hair. I bleed red, I breath oxygenand I am vulnerable with a heart that breaks just as easily. Yet in all these hate, I have found hope in the welcoming faces of total strangers and formed new friendships and I have learnt to never apologize for who I am because there can never be a more beautiful me.