I am a lover of elephants and I have been lucky enough to watch them in their natural habitat. They are the most majestic animals I have ever come across and the sheer size of an adult bull or cow always leaves me in wonder. Their sense of family and interaction is an honor to watch. There are two species of elephant; African elephant weighing up to 6, 000kg and its Asian counterpart weighing at around 5,000kg. Every elephant herd is led by a matriarch which is the oldest female in the herd (it's a female world out there). Her role is to offer guidance to the heard and teach the young ones how to behave. So intelligent are they that they extend their trunks in greetings when they meet each other and are known to perform funeral rituals for their dead. Let me assure you that I am not here to bore you with facts about elephants but to bring to your attention the threat that faces these gentle giants.
On 30th April 2016 Kenya burnt over 100 tones of ivory stock piles which is a representation of about 8,000 elephants that have been lost to poaching in the recent years. This ivory was not only confiscated from poachers in Kenya but from traffickers using Kenyan airports and ports to export the illegal goods. According to the African Wildlife Foundation there are around 470,000 African elephants roaming the wild. Some of us may think that this is a huge number but the picture on the ground is more tragic. Every 15 minutes an African elephant is killed by poachers for its tusks. That means that if this trend continues the elephants will be extinct in the next two decades. Boom! Gone!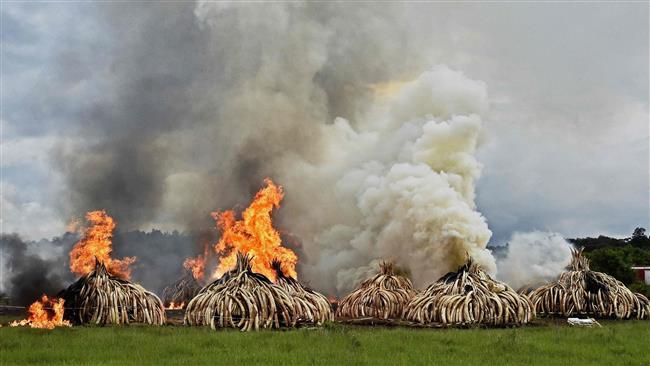 The historical burn of over 100 tones of ivory at Nairobi National Park
Most of you might argue that we live in a world where it is survival for the fittest and Charles Darwin would definitely back up your argument. However, this is not nature taking its course but human greed fuelling massive killings. The largest markets for ivory products are China and the United States. What disgusts me the most is that it is the elite that are buying the ivory trinkets and carvings to cement their standing in society. The icing on this madness is their belief that the trinkets or carvings are good luck charms, an aphrodisiac (really?) and are a sign of wealth. How low the human race has sunk is beyond my comprehension. The cycle of ivory trade is one of pain and loss of lives. Park rangers are killed daily in the line of duty and war lords like Joseph Kony from Uganda sell ivory to buy arms and continue reigning terror among the innocents. Do not get me started on the crimes his army has committed against women and children as he seeks to quench his power hungry soul.
That is why the action of Kenya to burn over 100 tones of ivory is very significant. It sends a message that Kenya will not tolerate illegal trade in wildlife. It is a cry to the world to pay attention before elephants and rhinos become a tale like the dinosaurs. Many people especially in Kenya have been of the opinion that the ivory should have been sold at an estimation of 172 million USD and the money used for conservation efforts. I choose to disagree; great strides have been made in banning ivory trade in some states in America and parts of China. Releasing such amount of ivory to the market will only refuel the trade and result to more poaching. On the other hand guarding ivory stock piles is an expensive affair and would require 24/7 surveillance. The danger with this is that we have some rotten corrupt individuals who would not blink an eye when sneaking the ivory to the black market. So what better way to stick it up their faces other than burning the stock piles to ashes! We are simply saying elephants are worth more alive, let me explain;
Tourism in Kenya is the second largest source of foreign exchange revenue following agriculture. The $1 billion a year industry is a source of livelihood for thousands of Kenyans while our South African counterparts earn more than $ 7 billion every year accounting for around 7.9% of its GDP. I could go on and on about the benefits we derive as a continent from live animals than dead. I recognize that this problem is not only unique to Africa but conservationists around the world are racing against time to save other endangered species like the white rhino, sea turtles, jaguar, panda, white sharks among many others. What has gotten us here is human greed. It is the lack of respect for any other creature that walks on the face of the earth. We have forgotten that man may be supposedly the most intelligent on the web but every species has a role to play in the functioning of the food web.
We are destroying our planet at an unprecedented rate. We have cleared forests to build cities and expand our suburban neighborhoods, we have polluted the same rivers that give us life and turned our ears deaf to the conservationists' voices of reason among us. History however, will judge us. Generations to come will hold us responsible for not protecting that which was entrusted to us. We owe it to them therefore, to be stewards of this beautiful planet until we can pass the torch to them.