The tragic Ethiopian Airline, ET-302, that crushed on Sunday morning of 10th March, 2019, left all the 157 souls lost. Unfortunately, Anne was one of the passengers on board whose life was claimed. Until her demise, she had been enrolled for as an Engineering PhD student at Boku University in Vienna, Austria.
Anne Birundi Mogoi was one of the pioneer PAUWES students of the first cohort in the Water Engineering track. She joined PAUWES in 2014 with a Bachelor's degree in Civil Engineering from Jomo Kenyatta University of Agriculture and Technology (JKUAT) in Kenya. She was a results-oriented registered Civil Engineer with expertise in Water Resources development projects that focus on Water, Food and Energy Nexus, Sustainable Environment Management, Climate Change, Research, Innovation and Development. Anne was an excellent communicator accustomed to working in teams and individually with a superior eye for detail.She had been involved in the­ design and construction supervision of various water related projects in Kenya and the topographical mapping and planning of Nakuru, Naivasha and Nyeri Counties.
Several friends and former PAUWES colleagues sent their tribute messages to mourn her death. Below are some of the tributes:
Axel NGUEDIA NGUEDOUNG from Cameroon
It is so sad to write to express this thought.
I did not know that I could ever experience once more such a pain. Definitely, good things never stay for long!!! I find it very difficult to write these words as I did not expect in all scenarios in the past weeks writing words for such occasion. "The Lord has given, the Lord has taken", but He gave us the opportunity to meet you, to know you, to enjoy the person you have been. We have just spent this small time together, but we've shared so much. I have found in you a colleague, a friend, a sister. There is so much to say on you but to keep it short, I will miss your smile, your joy, your fraternal warmth, your ambition and advices as person, sister. I cannot stop seeing picture of you smiling with these unique gestures. You are no more with us physically, but you will remain in our earth forever.
I pray that the Almighty Lord welcomes you in his home and let you watch on us while smiling with the Angels up there!!!
Go and rest in Peace Dada yangu!!!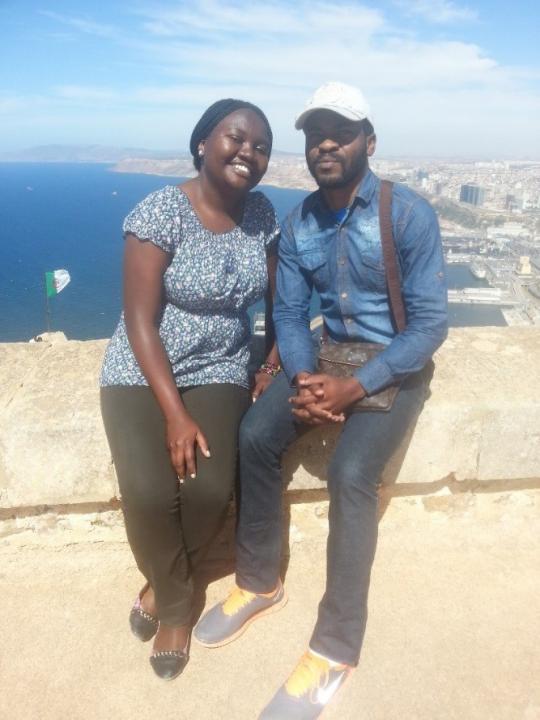 Astride Mélaine ADJINACOU GNAHOUI from Cotonou, Benin
For you my lovely Anna,
May the name of the Lord be glorified. He gave you to us, He called you back.
Anna, I just want to tell you that I am so deeply sorry because I didn't use to tell you how much you were hearty and a lovely person for me. Sorry Anne. You entered my life on 23rd of October 2014. We were to start our Master studies in Algeria in Tlemcen. We used to do our assignments together. Thank you for helping me a lot in English. Thank you for always remember my birthday. Thank you for going to church with me together sometimes. Thank you for fighting for our rights in Tlemcen. I remember when on a Thursday, we had an issue together, you came back to see me on Friday and said you were sorry about it. Thank you for being so hearty and forgive me to have not been all the time kind. Thank you for being so caring for me when I was sick in October 2015. You cleaned my room, prepare bathroom for me, checked on me until I recovered. Oh my God! Thank you Anna.
My dear Anna, when you laugh, we could hear it from far. You were so full of joy. I cannot even imagine how you will miss your parents. There is this big whole in my heart. If only I knew that God would call you back to him so early, I would have called you just to hear this laughing of yours.
You were so intelligent and enthusiastic. My Anna, I blessed God for your life. You were an Heroine and I think you just go as an Heroine. I can never ever, never ever forget you.
I continually pray for, ordering holy Mass for you my Anna, my sister from another mother. Condole yourself your parents and protect them from where you are, now you are even so shinning in the Stars. I believe you are one of the most beautiful of them.
Blessings upon your family.
I love you my friend. I do. Rest in God's peace my beautiful sister.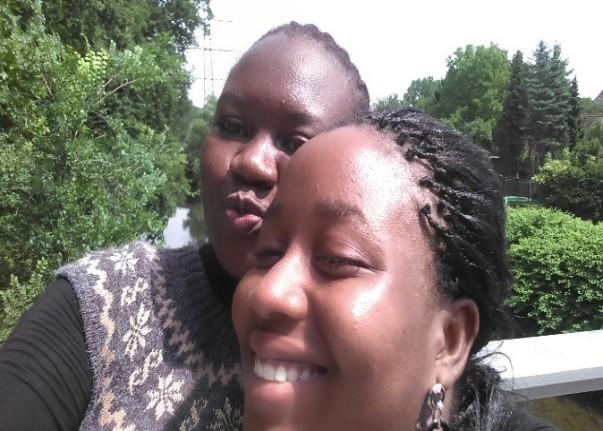 Devotha NSHIMIYIMANA from Rwanda
Dear Anne,
It broke my heart to lose you but I know that no matter what you will always be with us. Even though your beautiful smile and laughter are gone forever, I will forever cherish your memories. Your constant support, your big heart and incredible personality that always look the best for everyone will forever live in my memories.
Oh Anne, you are sadly missed but never forgotten.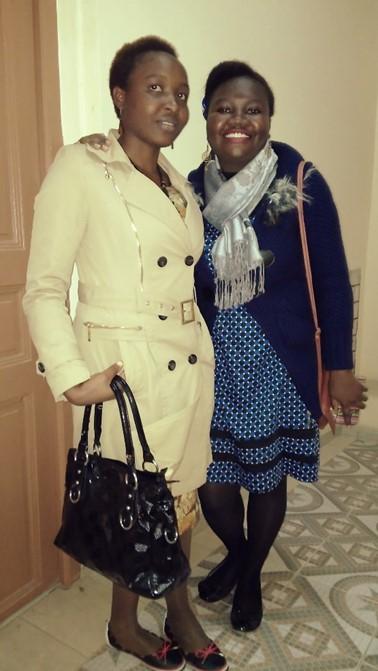 Clarisse NIBAGWIRE NISHIMWE from Rwanda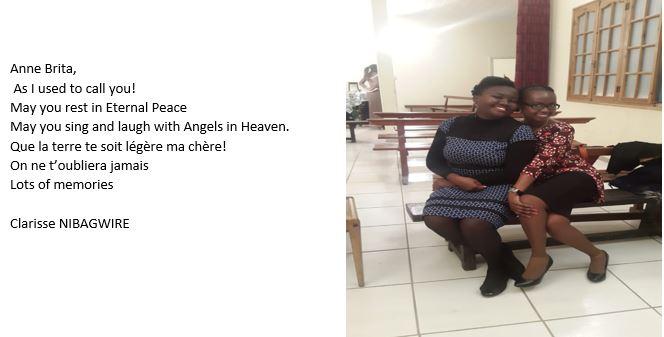 Ismael Jumare from Nigeria
It is really shocking to have received the sad news of the Ethiopian plane crash, which claimed the life of our beloved sister in the PAUWES family i.e. Anne Mogoi Birundu and other lives. Anne has been a morally sound, friendly and intelligent personality, and a great asset to Africa. So, it is indeed a great loss. I therefore, kindly pass my condolence to the family for the irreplaceable loss. May God comfort you all in your trying moments.
Sincerely,
Ismail Abubakar Jumare
Kay Nyaboe from Kenya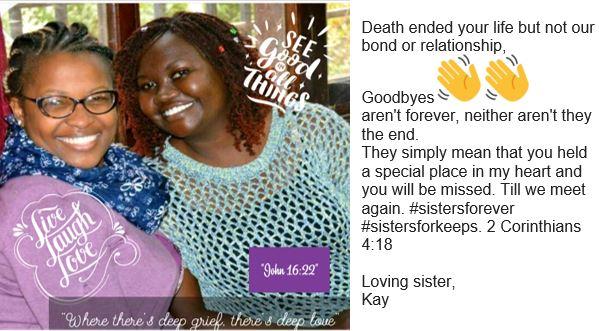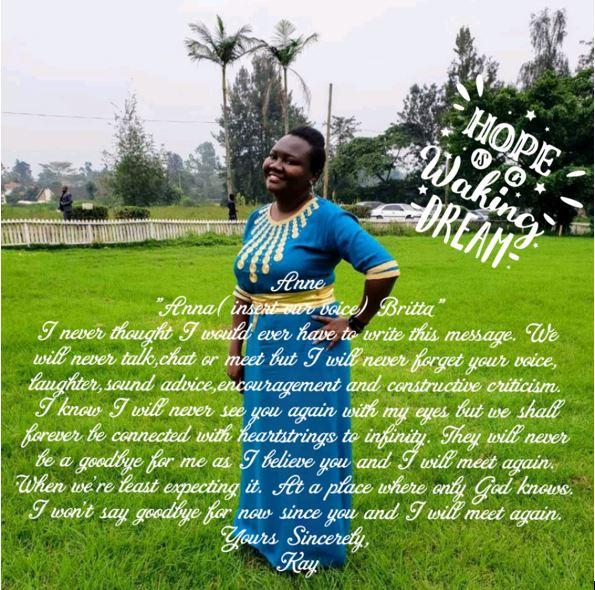 Lilies Kathambi from Kenya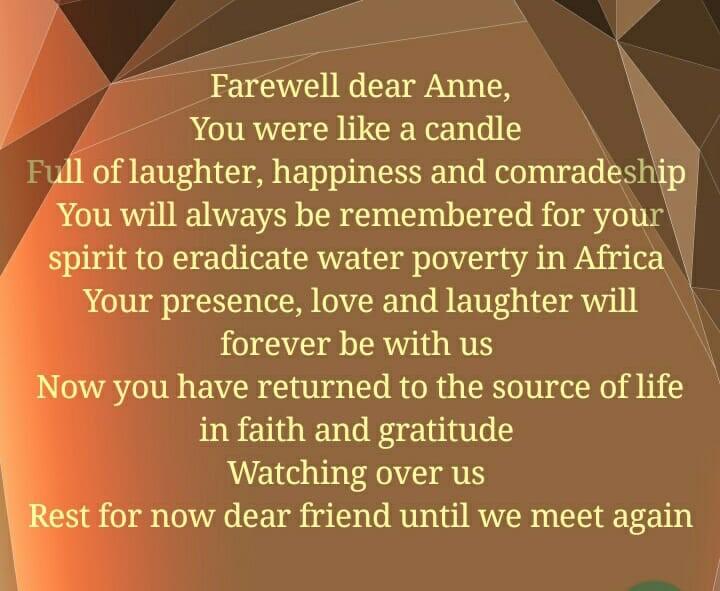 Nabil KHORCHANI from Tunisia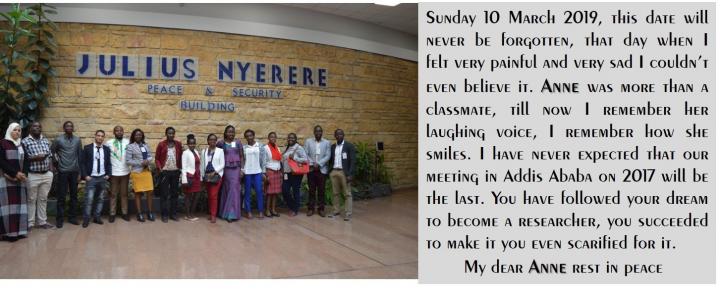 Nana Safiatu from Bukina Faso
"Verily to Allah, belongs what He took and to Him belongs what He gave".
Anne was more than a classmate. Her good heart was abundant of love and empathy for every one of us. A humble sister who always cared and supported me during our years of studies in Tlemcen and even after. Her personality taught me wisdom, humility and faith. I will always remember Anne's kindness and that special glowing smile which was contagious with anyone she met.
May Allah receive Anne's beautiful soul in Heaven and give her peace and eternal life.
Lord, comfort us all bereaved ones, the family and friends, as we go through this huge loss.
Albert Khamala from Kenya
Madam President, as I fondly referred to You at PAUWES, indeed Anne was a great leader with all attributes of an excellent leader. In Anne, I saw Prof. Wangari Mathaai reborn, the love for humanity and natural resources. The world has lost a rare personality with strong heart and mentality. Anne, although gone, your spirit of Pan African Integration will forever live.
We love you Anne, bye bye Anne. I will miss your strong heart, contiguous smile and laughter.
Kennedy Okuku from Kenya
We have lost one of the brightest minds in the world.
Anne was joyous and always concerned about the issues that affect her colleagues. She knew how to approach a situation without offending either of the party.
We will miss you Anne.
Rest with the angels.
Sadam Mohammed from Ethiopia
You were a great colleague and your smile face will remain eternally in my memory. Though death is part of every life, it is indeed very painful to hear that you are gone in such tragedy. May the God give your family more strength in this difficult time. RIP Anne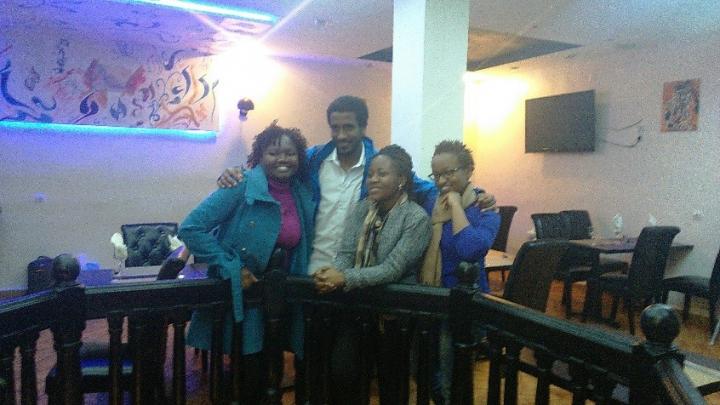 Paul Nduhuura from Uganda
A tribute to a friend and a sister:
I met Anne (RIP) for the first time in October 2014 when we both joined PAUWES in Algeria for our master programs as part of the first intake. Though our study programs were different, we attended some common courses together. Moreover, being a part of a small group of pioneer students, we frequently interacted outside the classroom. We dined, talked and laughed a lot together. As a group, we always found a reason to be in each other's company. Unique to Anne during all this time, was her strong influence on all of us.
Whether in class or in social events, Anne always stood out for many reasons, key among them as a natural born leader. Indeed, Anne's leadership potential did not go unnoticed amongst us her peers. She was chosen as the very first student leader at PAUWES. Throughout the entire first year at PAUWES, I was privileged to serve alongside her as a bridge between the students and the administration. At that time, processes and structures at PAUWES were just starting to evolve. Anne – in her capacity as a student representative – was at the centre of it to advocate for what was best for us, all in a diplomatic and cordial manner. Anne devoted her time, energy and resources, often in long meetings and discussions with the administration and partners, to advance the roots of Pan-Africanism. I dare say that many of the developments that we see today at PAUWES have Anne's strong footprint in them.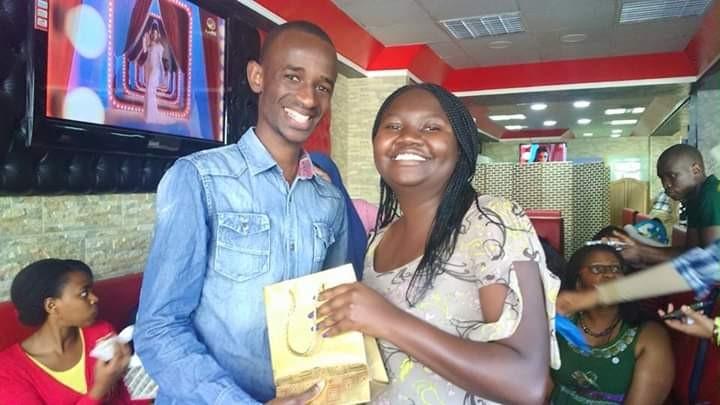 PAUWES aside, there's a lot more that I could say about Anne as a person. I don't remember any time when I met with her and we parted ways without a hearty laugh. That was Anne's 'trademark'. Even during tense and challenging times, her cheerfulness would lighten me up. I will miss her even more for that. Anne also had unmatched intelligence, boldness (she often said, "I don't mince my words"), an incredibly focused mind and strong sense of belief. Anne knew what she wanted to achieve in life and wouldn't stop at anything less than her vision. She believed in scaling and exploring the highest heights, casting off stereotypical limitations of race, gender and tradition in the process. This is evident in the fearless decisions that she made and ventures that she undertook. Anne inspired and challenged me in these and many other ways. In her honour and memory, and in as much as I am able, I will challenge myself to advance some of the causes which she believed in.
As a friend, the news of Anne's demise has overwhelmed me so much. Even then, I know that my pain cannot compare to the amount of pain, grief and devastation that you – Anne's family – have had to endure since you received the terrible news. As you go through this painful period, I would like you to know that, I together with many other friends of Anne in Africa and around the world, are grieving with you.
I hope that this tribute can give even the slightest of comfort to you, knowing that you are not alone at this trying moment.
As for Anne, she will forever be my friend and sister. I will remember her always. I will miss her.
Rest in peace dear Anne.
From your son, brother and friend,
Paul NDUHUURA
Francis Musyoka from Kenya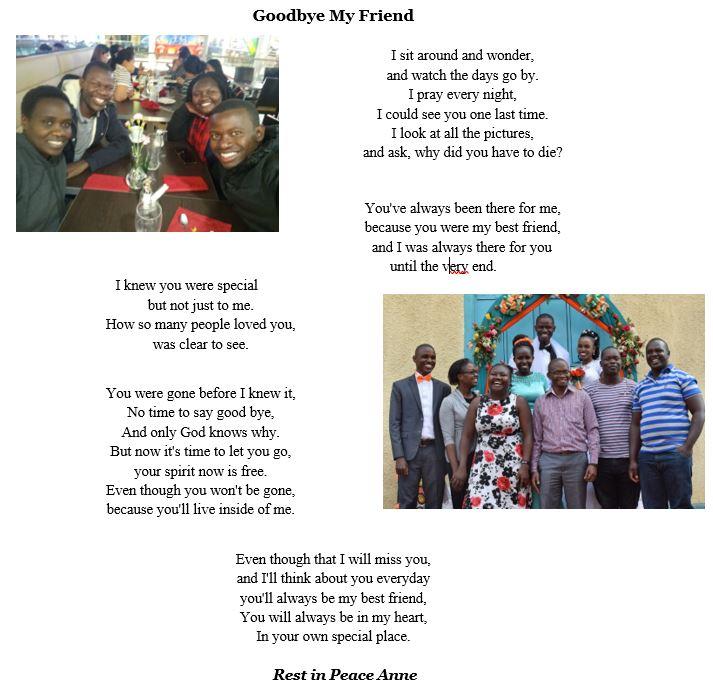 Maina Macharia from Kenya
To have met you, interacted with you and shared times together was a great joy and pleasure.
You will always be a part of me, fly well Anne, Fly Well to the Almighty.
Osoro George from Kenya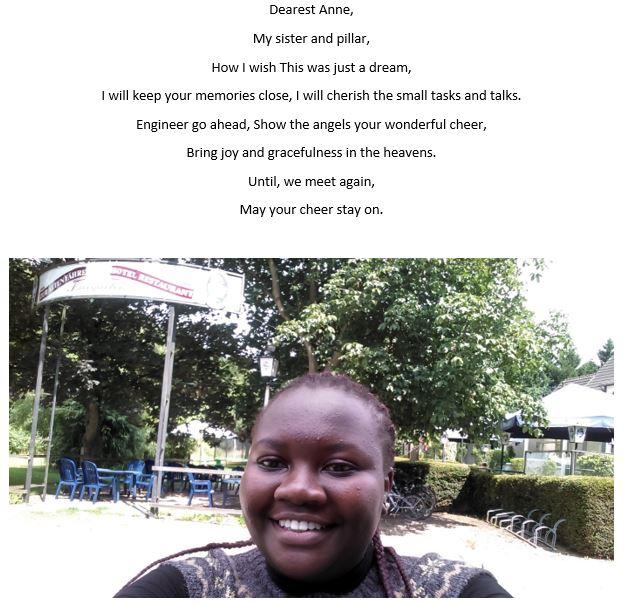 Faith Natukunda from Uganda
Anne, learning of you passing to glory was such a heartbreaking experience. The last news I expected to receive. It brought back various memories of the encounters and good times we had, right from our first meeting at the airport in Istanbul, Turkey on 22nd October 2014; and from that time on, our friendship grew.
A beautiful soul, very vibrant and outgoing. A lady of virtue and full of wisdom, that stood her ground no matter the cost. Strove for nothing less than the best, and tolerated no mediocrity.
My photo-buddie, you had a laugh would fill a whole room with life, and a smile so contagious. So soon have you departed, but only physically, the memory of you lives on and I continue to hold that so dear. Adieu, mon amie. Rest in eternal peace.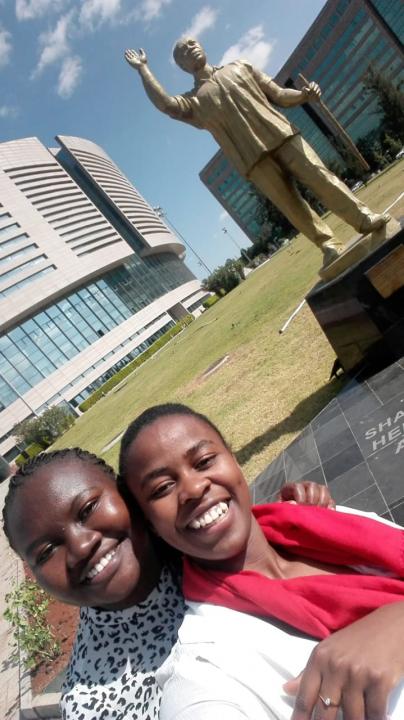 Rehema Maria KHIMULU from Kenya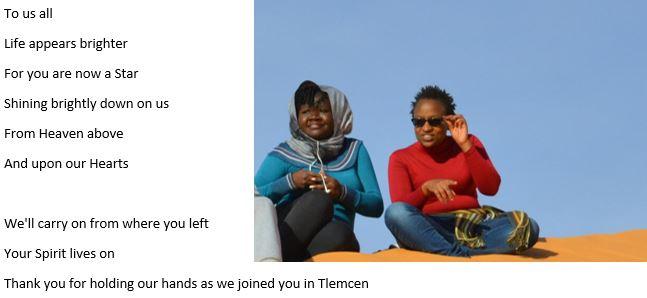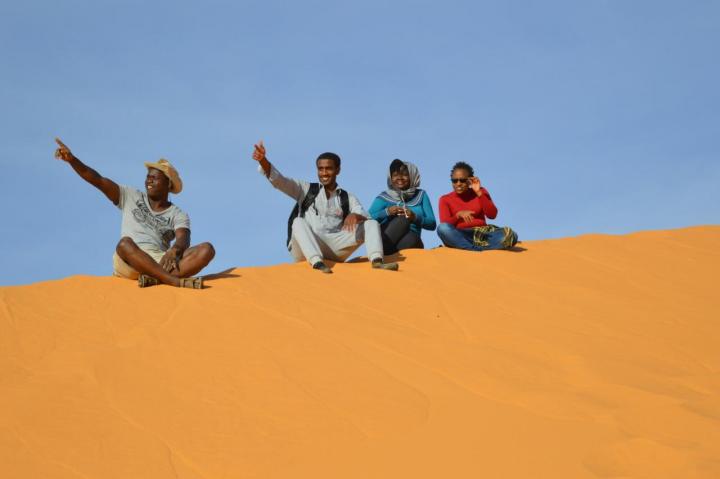 "On behalf of the PAUWES CoP Team, I would like to offer you and your family our deepest and most sincere condolences, we will surely miss the presence of a truly lovable and kind person. The gorgeous, cheerful and all time shiny smiles, the confident, brilliant and focused person in you will forever be missed. A prayer, a flower, a candle and sad tears of pain for you, our dear sister. May God put you in a special place where you will be watching us, the people who loved and cherished you!
No one can prepare you for a loss; it comes like a swift wind. But we take comfort in knowing that you're now resting with the angels. Words may not suffice to express the heartfelt sorrow that we feel, May your soul rest in eternity."
Sincerely,
Brian ODUOR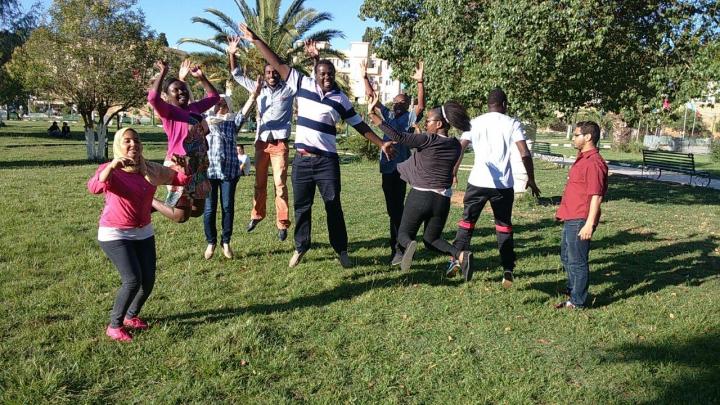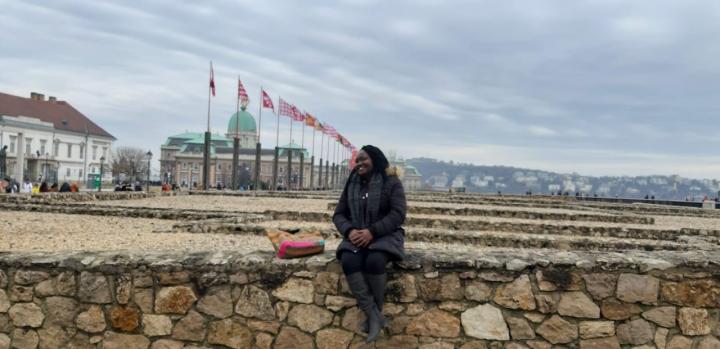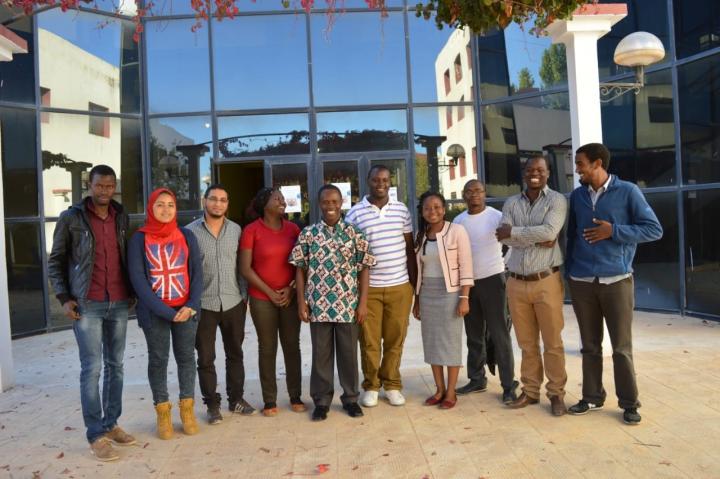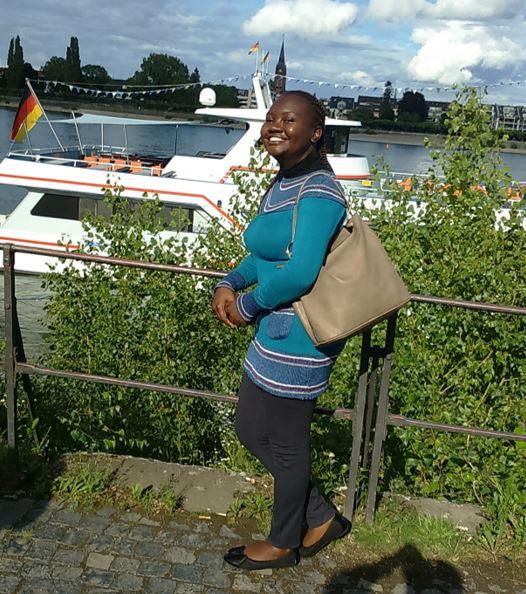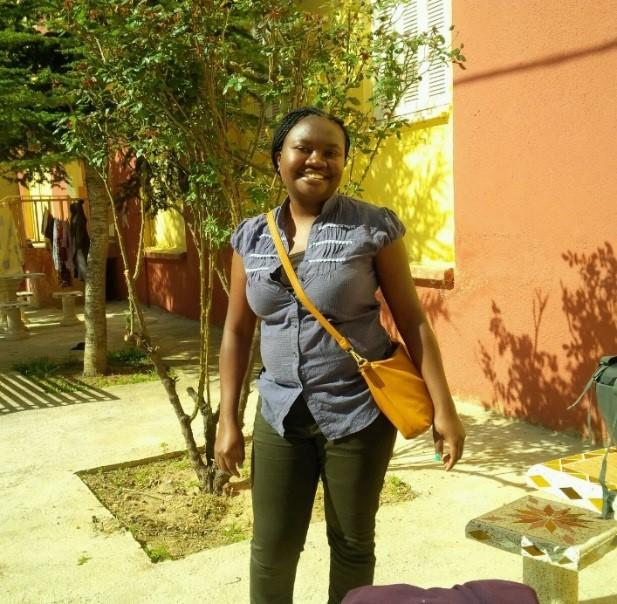 FARE THEE WELL ANNE!!!